Browsing articles in "200mm BHWS WaferShipper"
200mm BHWS WaferShipper™
Overview
The Texchem Advanced Products 200mm Bumped Horizontal WaferShiper™ is a unique design providing superior protection versus competitor HWS models. The 200mm BHWS is designed for transporting up to 25 full thickness "Bumped" wafers using our Wafer Separator Rings (pn WSR200-R1). By working closely with our material suppliers we develop the cleanest materials for ionics and outgassing, resulting in an ultra clean, carbon filled polypropylene that provides ESD protection.
The 200mm BHWS WaferShipper™ is designed to be compatible with most automated wafer packing, unpacking, and sorting equipment.
Our unique, patent pending moveable wall design secures the wafers as the cover is closed.  The edge-grip support "hugs" the wafers, limiting wafer movement and reducing particle generation. The WaferShipper™ provides unprecedented lateral shock protection by holding the entire stack of wafers radially, unlike competitor models which offer either no radial protection, or only hold the top several wafers. External forces and impacts are effectively directed to the shipper itself while the wafers remain safe.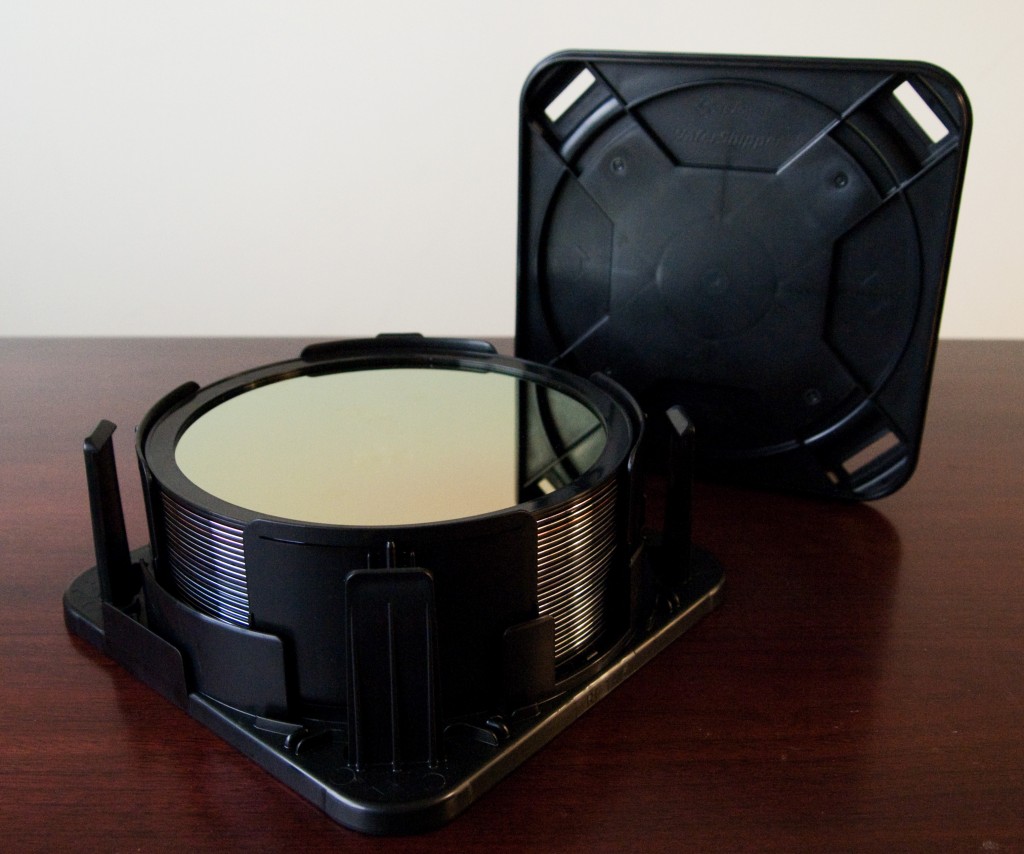 Features
Manufactured with the industry's cleanest, high-purity polypropylene material
Minimal outgassing, trace metals, and ionics
Unparalleled shipping and impact protection
Edge-grip support "hugs" the wafers, limiting wafer movement and reducing particulation
Secure, easy to use four latch locking mechanism
Arrowed, notch feature for proper top/base alignment
RF Tag Housing in the base for inventory and process management
Compatible with automated packing/unpacking/sorting equipment
Houses 1-25 Wafers using Wafer Separator Rings (pn WSR200-R1)
Specifications
L x W x H: 226mm x 226mm x 69mm
Internal Height
Each package is double clean room bagged
Part name: 200mm BHWS
Part number: BHWS200-A5
Ring part number: WSR200-R1
Corporate Headquarters
2670 South Commerce Way
Ogden, UT 84401
Tel: 801.399.5723
Fax: 801.393.7559
Toll Free: 1.888.295.5906
Quick Navigation