Browsing articles in "Wafer Shipping Packing Instructions"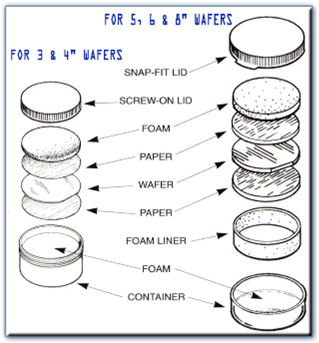 Recommended packing method for SPI/Semicon wafer containers
Each wafer jar requires a foam liner, foam cushion discs, and wafer interleaf disc to effectively protect wafers during transport.
Follow these steps
Insert the Foam Liner around the inside wall of the wafer jar.
Place two Foam Cushion Discs in bottom of wafer jar.
Place Wafer Interleaf Disc on top of foam disc.
Place one wafer on top of Interleaf and continue putting an Interleaf Disc between each wafer as wafer jar is loaded.
Place Wafer Interleaf Disc on top of the last wafer loaded into jar.
Fill any empty space in top of jar with Foam Cushion Discs.
IMPORTANT NOTE: To prevent wafer breakage it is critical that the jar is "overfilled" by the thickness of the Foam Cushion Discs. This overfill creates a light compression on wafers when the lid is snapped onto the jar. The compression prevents wafer movement inside the jar which helps to prevent wafer damage. Please note – this "overfilling" procedure is to be used only with the soft foam cushions. When using firm foam in the container overfilling the container can cause breakage of the wafers. Over filling with firm foam can also cause the lid of the container not to seat properly and come off in transport.
The above instructions are intended for packing the 1-1/2″ deep wafer jar with up to 25 wafer. When packing 3″ deep jar with more than 25(up to 50) wafers place Foam Cushion Disc every five wafers.
Corporate Headquarters
2670 South Commerce Way
Ogden, UT 84401
Tel: 801.399.5723
Fax: 801.393.7559
Toll Free: 1.888.295.5906
Quick Navigation